The visual health of children and teenagers is fundamental: raising awareness among families, eye examinations and exams and supply of glasses where necessary are the main foundations of this project.
Since 2018, the Italian MEI Foundation has offered students of the João Paulo II Educational Centre an important vision care project.
The project initially consists of making families aware of the importance of children's visual health, which can influence, sometimes heavily, their ability to concentrate and their performance in reading and writing. Children who often report headaches, or who ask to sit closer to the blackboard, are potentially in need of visual health care.
In 2018 all students and employees of the João Paulo II Educational Center were included in the project and in 2019 it was extended to new after-school and sports centre members.
The project involves an eye examination and, when necessary, the provision of glasses with prescription lenses. Humano Progresso Association collaborated in partnership with an ophthalmology clinic in the city of Salvador to carry out the visits.
The project envisages that groups of children are accompanied by a responsible adult to the clinic on the day of the visit to undergo the necessary eye screening tests. At the end of the visit, the parents and the institution receive the diagnosis and the possible prescription for glasses.
For children who need it, the project involves the production of lenses and the choice of a frame, right inside the headquarters of the Centre. Graduated lenses and frames are provided by the MEI Foundation's headquarters in São Paulo. On the day of the choice of the frame, the Centre turns into an Optics store, thanks to the support of the "A Fabrica" Optics, which provides its professionals and the tools necessary to measure the frames, to manufacture the glasses and then to return them ready for delivery to the families, within a week.
SEE WELL, STUDY BETTER
PROJECT DATA
2018
304 eye exams and routine exams
20 additional exams
146 glasses manufactured
2019
125 eye exams and routine exams
53 glasses manufactured
THANKS TO THE COLLABORATION OF
Get to know the other projects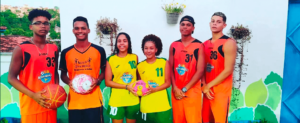 The uniforms for the football, handball and basketball teams, provided by a group of Italian supporters, are the symbol of belonging not only to a team, but to an entire experience and a life project.
MEI is a world leading Italian company for ophthalmic lens cutting machinery.
Always engaged in projects
of solidarity, MEI decided to set up its own Foundation in 2017 through which to support charitable works where necessary, with particular attention to the prevention of visual problems of minors in disadvantaged situations.
Since its establishment, the MEI Foundation has supported projects in Italy, Brazil, Uganda and also in support of the COVID emergency.